Saturday, March 23, 2013
Learn to Hate your Wife
We talk a lot in Christian circles about how to love our wives, and rightly so. But I fear that we neglect another command of our Lord, which is that we must hate our wives. And I do not believe these are separate commands in tension, which we must learn to balance; I do not believe we can learn to love our wives until we learn to hate them first.
"If anyone comes to Me and does not hate his father and mother, wife and children, brothers and sisters, yes, and his own life also, he cannot be My disciple."
(Luke NKJ)
What is Jesus commanding us to do here exactly? A similar passage in Matthew 10:37 says it a little more gently: "He who loves father or mother more than Me is not worthy of Me. And he who loves son or daughter more than Me is not worthy of Me."
(Matt. NKJ) Some interpreters reading the Luke passage simply explain it away with the Matthew passage; Jesus isn't telling us to actually hate our family members, but just to love them less than Jesus.
But those aren't the words that Luke uses. He quotes Jesus as saying "hate", and sound Biblical exegesis tells us that while Scripture certainly must interpret Scripture, we should not simply explain away one part of the Bible with another. The word "miseo" translated there "hate" is used by Luke in other places to describe the hatred that followers of Jesus would experience from the world (Luke ; ). Also in Luke we are called to choose between loving God and loving the world; Jesus tells us we will love one and "hate" the other. This is not a matter of loving one less than another; Jesus presents it as a choice.
This is also what I believe Jesus is telling us in Luke 14. We must choose. Following Christ always has costs; in Luke 14 Jesus goes on to tell us to count the cost of discipleship. I don't know a single serious Christian that hasn't lost relationships as a result of being a Christian. We are faced with a choice, many times in our lives- either we can have a good relationship with some loved one in our lives, or we can be faithful Christians, but we can't have both. The Christian should never be the one forcing this choice on others; being a Christian never means shunning unbelievers. But it is the unbeliever that forces the choice on us. Jesus tells us in many places, like Luke 6:22 and , that the world naturally detests the followers of Christ, and will pressure them to compromise their faith. Many in the world will only have a relationship with the Christian if the Christian softens or downplays or even denies aspects of his faith that the world finds repulsive. (Exhibit: Tim Tebow)
Where is the ultimate source of our happiness and satisfaction? In Christ, and only in Him. Family is a great blessing from God, but family can never provide for me what Christ provides for me. I am blessed to have a good family, but God may one day take that away from me. He can still provide for me and comfort me even without my family. And if I expect my wife or my parents or my children to be for me what only Christ can be, the ultimate source of joy, of significance, of contentment, in my life, then I will put a burden on my family that they can never bear. A great many problems in families come from just this error; a man comes to hate his wife because he expected her to satisfy his every desire, to give him full contentment, which she can never do.
This points us to the irony of the Christian life, an irony well expressed by Jesus' statement above. A man who loves his wife above all will ultimately come to hate her. But a man who learns to hate his wife for Christ's sake, to be willing to lose his wife, to recognize that his wife is a fallen sinner just like he is, that man will finally be able to truly love his wife as the Bible tells us. It is a paradox; only by hating my wife can I truly love her; whereas loving her above Christ or instead of Christ is the most hateful thing I can do to her. This is just what Jesus meant when He told us that "He who loves His life will lose it; He who loses his life for my sake will find it." Jesus' statement works just as well substituting any good thing there for the word "life".
Many have been lost to the faith because they could not bear to lose their loved ones. Many have contemplated Christianity but rejected it because they knew what their parents would say, what their spouses or children would say. Many who started out in the faith lost it when one of their loved ones abandoned the faith. To be Christ's disciple you have to be prepared for that. You have to be prepared to consign any one of your loved ones to the judgment of God, to reject them and forget about them and write them out of your life. Some of your loved ones will end up in hell. Can you bear that? Do you love them so much that you will follow them there?

I'm not advocating shunning. As long as our loved ones who reject the faith are willing to talk, willing to have a relationship, we should be willing as well. And some of them might be willing to have that relationship. But some of them won't be, and you never know which ones. So Jesus is telling us to be prepared; count the costs. You can bet that one day God's finger will be laid on the idol in your heart, and you will be asked what you are willing to lose for the sake of Christ.
So men, learn to hate your wife. Parents, learn to hate your children. Brothers, hate your sisters, and sisters your brothers. Be willing to lose all for Christ; look to nothing and nobody to be to you what only Christ can give to you. If you cannot do that, then you cannot be His disciple. If you cannot do that, you will lose your wife and children anyway; trying to hold back things from Christ just results in losing them and losing Christ.
But when you do that, when you are willing to lose all for Him, to despise all, to count it all as dung in comparison to Him, then Christ will give back to you far more than you were ever prepared to lose for Him. Only by pursuing Christ alone can you ultimately have good relationships with other people; just as only by pursuing Christ alone will you learn to truly enjoy food, nature, work, or any other good thing that God gives us. He gives us everything in Christ; rejecting Christ, we can have nothing.
Seek first the
kingdom of God
and His righteousness. Everything else will be added unto you.
Thursday, March 07, 2013
Competing standards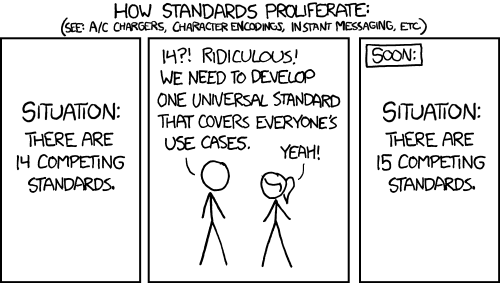 I was at a discussion tonight regarding different religions, where similarities and differences between the leading figures of Judaism, Islam and Christianity and the way that each religions dealt with these figures. The speaker tried to show the way that founding religious leaders sometimes are mythologized, and the similar way the different religions did that. It was fairly standard relativistic stuff, but the speaker at the same time did make a pretty good attempt to talk truly about each of these religions and the real differences that exist. One lady in the audience asked why we focus so much on the differences. She said, "It's like we don't really want peace." The speaker answered somewhat inconclusively.
After the talk was over, the lady came up to me and my friend that was with me and in response to some things my friend had said about the illusion of neutrality, that everyone was coming from a particular perspective, made some comments about being a lot more sure of what she knew when she was younger than she did now that she was seventy. Then she said that we should check out the Unitarian church.
This made me think of the above comic, a perceptive look at what often happens when we try to simplify. The person who says that we all ought to join together with other religions and simply focus on what unites us rather than what divides us is actually creating a new religion and asking all of us to leave our old faiths and join this new one. The Unitarian lady was actually proselytizing, that which she so deplored when other religions engaged in it. She just proved my friend right- she was pretending to be saying, "It's dumb to fight over these things. Let's just forget what divides us and all just agree to get along." But what she was actually saying is, "My religion is right and yours are all wrong, and you should join my church." I don't blame her. That's what I think too. But it would be nice if we'd all just be up front about it.
Tuesday, February 05, 2013
Christ Reformed Church of Casper
Thursday, January 24, 2013
Balance in the Christian Life
In Tim Keller's book Center Church he focuses throughout the book on what he believes to be a fundamental balance in the Christian life, between legalism and antinomianism. I appreciated this focus, though I didn't always agree with where he found that balance on various issues. But I think he's right. Legalism and antinomianism are the twin enemies of the gospel, and either one of them will shipwreck our souls.

Legalism is the desire to establish our own merit or righteousness before God, or to secure for ourselves our own blessedness through our own efforts. Paul addresses that sin especially in Galatians and Colossians. Legalism comes in lots of different forms. Many of the cults like Mormonism and the Jehovah's Witnesses are explicitly legalistic, teaching that we are required to save ourselves through our good works, to earn our places in heaven, even if they say that Christ in some fashion made it possible for us to do that.

Antinomianism is a rejection of God's law altogether, often under the guise of grace. It is sometimes characterized as a belief that sanctification or repentance is unnecessary for the Christian. I think it might be more accurate to say that antinomianism involves the denial that personal righteousness is the fundamental goal of the gospel. Some say (and I think Keller is a little bit guilty of this) that the gospel is basically about forgiveness of sins, and that sanctification and good works are laudable, even necessary responses. I think this is still a bit of an antinomian tendency because it divorces good works from the gospel itself, which I think is a mistake. Freedom from sin is an essential part of the gospel. Having a people that are free of sin is constantly presented as the whole point of the gospel- see Ezekiel 36, Jeremiah 31:31-34, etc. So I believe that any separation of repentance and good works from the heart of the gospel itself tends in an antinomian direction.

Different people will locate the distinction a little differently though. And it is a balance- one must avoid extremes on either side.

But the balance isn't really like a tightrope or a high beam that a gymnast walks, where one has to avoid making any error in either direction or one will fall to one's doom. It's a lot more like a bobsled run. The bobsled may at different times go up one side of the run or the other, but gravity normally brings them back down to the center.

Christ is the bobsled run. If we rest in Christ, then we may at times err in one direction or another, but Christ will always bring us back to Himself. The gravity of that relationship always pulls us to the center. With the twists and turns of life we may get pushed up one wall or the other; we may for a time be imbalanced in our thinking, but if we are in Christ we will return to a Biblical balance. It takes a concerted and intentional effort or a really catastrophic error to get all the way out of the track. Likewise in the Christian life, it's never by simple accident that one slides into fullblown legalism or antinomianism. Only if one is not resting in Christ at all can one fully escape the gravity of that relationship.

One of the ways we often get unbalanced is by fear of the other extreme. So one starts focusing on good works and their importance to the neglect of God's forgiveness and grace because one fears lawlessness, fears rebellion against his rightful king. Another fears relying on his own sinful flesh and so focuses entirely on forgiveness and grace to the neglect of proper spiritual discipline. But both really are focused on serving Christ, though in unbalanced ways. Ultimately their dedication to Christ will correct either imbalance. But the one who truly desires to be responsible for his own salvation will not be so corrected; lacking a focus on Christ he will fall into true legalism. Another one desires to please himself with his own life, rejecting the rule of God's law and using grace as a cloak for self-worship. He will become a true antinomian. The relationship with Christ is absent in both cases. The problem is not a lack of theological precision, but a lack of trust in Christ. Legalism and antinomianism therefore ultimately end up in the same place, a trust in self rather than a trust in Christ.

So it's a mistake to live in fear of either extreme, of policing every expression and word to make sure one isn't erring in one direction or another. I'm all for theological precision and we should strive for it. But fundamentally it is not theological precision which will save us from either extreme. It is Christ. So our focus should be on Him, on what He has done for us and what He has called us to. That will ground us right in the Christian life, and though we may be a bit unbalanced at times we will always return to center. The gravity of our relationship with Christ will not permit us to slide all the way out of the track to the ruin of our souls. He will preserve us in Himself to the end.



Casper
Almost ten years ago I started this blog to mark the occasion of my moving to Limon, CO for my first ministerial charge. Actually I was an intern at the time but I ended up being their pastor for almost a decade. It was a great experience for me, one that had many challenges, many ups and downs, but ultimately blessed me and my family in many ways. Starting a new church plant just highlights for me all the many blessings that I had in Limon, blessings we have chosen to leave behind. We are very thankful for all God did for us and all God taught us there.

Now we are in Casper, WY, having taken the call to plant a church here. There are lots of changes in our lives, and we are excited to look forward to all of the new developments God will bring. We are still in a transitional phase, with lots of things to work out, not least of them a name for our new church. It's kind of a big scary thing, in a lot of ways, to plant a new church. But I just keep reminding myself that it's God's work and not mine. I don't need to be clever enough, or innovative enough, or spiritual enough or caring enough. I just need to do my best to be faithful to what God has called a pastor to do. He will do the work. He said to David, "Will you build me a house? Behold, I will build you a house." I'm excited to see what house God will build for Himself, here in Casper.

Saturday, December 22, 2012
Thank Christ for Facebook
At Christmastime we remember to do what we should always do, which is to remember the coming of Christ into the world and the freedom from sin we have as a result. But we were freed from a lot more than just sin.

Before Christ came, the world was largely in slavery. All over the world, darkness ruled. Tyrants abused, exploited and murdered their own people with impunity. Their evil regimes were supported by the lies of paganism which taught people to live trembling in fear of the demon-filled world around them, and to be dependent on the god-men that ruled over them and exploited them. The spread of Christianity destroyed those lies everywhere it went, and over time unleashed the creativity, industry and productivity of people everywhere it went. The spread of Christianity has been the spread of equality and freedom, and with equality and freedom comes science, industry and economic development.

That means that we should be thanking the birth of Christ for the computer you're reading this on, the Internet it's being transmitted over, and even the Facebook where many of you found this link. Just because evil people misuse those things for evil purposes doesn't make them evil. Every good gift of God can be turned to evil purposes, but they are still good gifts with many good uses. Likewise thank Christ for the heated and air-conditioned homes you live in, the cars you drive, the medicines you take, the cheap and abundant wealth you experience every single day without even thinking about it. The average person in the western world lives surrounded by wealth that would be absolutely unimaginable to Mary and Joseph in the first century before Christ.

We have this idea of gradual scientific and cultural progress over the last many thousands of years. That is a lie of modern evolutionary materialists. If you look at any ancient culture's mythology, you see instead a yearning backward to a civilization and a golden age that was lost, and gradual decay and loss of technology and culture from then up to a time of relative barbarism and ignorance. The past is usually better to the ancients. The Scriptures tell us clearly the reason for this, that as a result of sin, people lost and forgot the knowledge they used to have. Christ reversed all that, began to break the hold of sin, leading to the great abundance of wealth and knowledge we see around us today. And much more will follow.

The devil continues in his lies, trying to convince us that the technological abundance we see is a result of putting off the superstition of religion. But the opposite is true. It is religion, true religion, that enabled us to put off the superstition of paganism. And as people in this country reject God once again, we see them sliding back into the superstitious fears of ghosts and vampires and UFOs and a hundred other things; they slip back into the darkness from which Christ saved them. It must be a troubling thing for the Richard Dawkins of the world to realize that atheists are actually more likely to believe in ghosts than conservative Christians are.

So thank Christ- not just for your salvation (although most of all for that), but also for the Internet; for cars; for petroleum; for penicillin; and for all the wonderful things we haven't even seen yet, but by His grace, we will.

Tuesday, December 18, 2012
No Shortcuts
There are no shortcuts to true godliness.

One of the features of modern American life over the last fifty years or so has been the gradually increasing disconnect between sex and marriage. The big watershed event in that disconnect was the birth control pill. With the coming of the pill, the most fearsome consequences of sex outside of marriage, out-of-wedlock pregnancy, could be largely avoided (or so it seemed). The result was the sexual revolution. The acceptance of gay marriage today is simply the inevitable consequence of the shift in attitudes that happened so many years ago.

One of the reactions that social conservatives have had to this event is to decry the birth control pill. Roman Catholics actually forbid its use in any circumstances, and many Christians view it with extreme suspicion. There are some interesting arguments about the pill that have to do with its possible role as an abortifacient, but many times the argument is simply to point to all the negative effects on society that came with the widespread use of birth control; the increase in divorce, the increase in promiscuity, the increase in sexually transmitted disease and the like. It is undoubtedly the case that a great many ills in society increased dramatically in the time period following the introduction of the pill.

It is also the case that the use of pornography has increased dramatically since the introduction of the Internet. The rate of obesity has also increased quite a bit in the last several decades, corresponding to the increase in food choices and the decrease in food costs.

Many of the solutions I have heard to the problem of pornography addiction have had to do with imposing external constraints as well. Content filters on your computer (which can be evaded), computer positioning, passwords and the like. But we ought to know that the Internet did not truly create any new problems. It used to be that if a man wished to use pornography, he would have to get in his car and drive to one of those stores in the bad part of town, risk being seen, and purchase material which could then be found by his wife or kids. When magazines like Playboy came along, then a man could get it delivered to his house in a nondescript brown wrapper, but it was still there in his house where people could find it. The Internet just made it possible for the man to use pornography easily and anonymously, and to destroy all evidence of it afterward.

Similarly, people worrying about the bad health effects of overeating call for the regulation of certain kinds of food, changes in school lunches, educational programs and the like. These arguments aren't as often made by Christians, but Christians often make the same kinds of arguments about other kinds of problems. Young men wouldn't lust so much if only the girls dressed more modestly. But again, immodest dress doesn't create lust any more than bacon creates gluttony. Men used to get excited over an exposed ankle. Now that a great deal more than ankles is commonly exposed, men have a great more opportunities to lust.

Again, people in society used to be more commonly hardworking than they are today. Sometimes we think that means people used to be more moral. But consider- in the old days, if you were not hardworking, you starved. Did that mean people worked hard because it was right and honorable before God to do so, or just because the consequences of not being hardworking were so terrible?

That is to say, external constraints have been removed. Celebrities and rich athletes are a great illustration of this principle with their often famously immoral lives. Are they worse people than the rest of us, or do they just illustrate what happens when the normal financial and legal constraints of life are removed? Similarly, I do not believe that people who live with the reality of the Internet, of cheap and abundant food, of government welfare programs are therefore truly more lustful, gluttonous or lazy than people have ever been. There are just fewer external constraints restraining our sin.

But external constraints do not make us righteous people. The goal of the New Covenant was and is the transformation of the hearts of God's people, to be conformed to the image of Jesus Christ. No amount of change of our external environment can make us either good or bad; they merely reveal what is in the heart already. God desires truth in the inward parts.

Jesus said, It's not what goes into a man that corrupts him. It's what comes out. And yet we Christians continually try to restrict external environments in order to accomplish moral change. We blame Facebook for the failure of marriages or the loss of productivity; we blame the Internet for lust and immorality; we blame food choices for obesity; we (and here I really mean we, including me) blame government welfare programs for dependency and sloth. And so a great many churches forbid things like alcohol, tobacco or dancing, or have similar things, because of the potential for abuse.

Everything can be abused, and when the sinful heart of man is involved, everything will be abused. And so there are no shortcuts. The solution to overcome sin, to overcome our problems, always and only is the same thing- to throw ourselves on the mercy of God for our rebellion, accept the forgiveness of sins in Christ and submit ourselves to His rule. The kingdom of God exists in the hearts and minds of men. The Spirit of God goes into the hearts of the converted, of those who put their trust in Him, and changes it. And the change that we expect to see comes through the ordinary means of grace, the normal way that God dispenses His transforming power in the hearts and minds of the elect- through the Word of God, through the Sacraments and through prayer. As we lay hold of God's means of grace, and by those means cultivate a relationship with the Lord, our hearts will change, and our environments will change along with it.

Mankind is created in the image of God, and was called to be in dominion over creation. And we are in dominion. If our hearts are corrupt, we will create corrupt environments, distorting, misusing and abusing the creation. As we are converted to Christ, we will exercise a different kind of dominion over creation. But spirit always dominates over substance. Our environment never causes us to be what we are; the opposite is always the case. Environment may give our sin particular shapes; a man whose father is a drunk will have a particular set of temptations that other men might not have. But environment never causes us to be what we are. Environment doesn't create sin in us, and therefore changing environments can't cure the sin. At best, changing environment will only change the appearance of your sin.

So there are no shortcuts. Dieting is not going to cure the gluttony in your heart. Getting off Facebook or getting rid of your video games will not make you hardworking and productive. Canceling your Internet will not cure your lust, because the Internet didn't create your lust in the first place. These may be good things to do for other reasons, but they won't do anything to decrease the sin in your heart. The solution always comes from within, from the dying of the old man and the making alive of the new. And that change always comes by the power of the Holy Spirit and through the means of grace, beginning with the forgiveness of sins in Jesus Christ. As the heart and mind of man is changed, is transformed, then outward habits will follow suit.

And all of this means that ironically, for the spiritual strength and health of the elect, the removal of these external constraints may actually be a very good thing. Before, a man could perhaps congratulate himself for staying married and not being immoral, simply because the external consequences for his doing so were so high. That does not make the man moral, however- it just makes him a coward. Now, the only thing that will keep us from using pornography, or make us hardworking or moderate in the use of food or other substances is what is in our own hearts, since so many of the obvious consequences are reduced. The heart of the Christian in this society must grow strong, must grow battle-hardened. We must create our own internal constraints on our behavior, since society will impose almost none. But that has always been God's real goal- not people who behaved because they had to, but people who truly loved God, who had God's Spirit within them and who had God's law written on their minds and hearts, who are truly God's own people.

Saturday, December 15, 2012
Living in Fear
Some of my greatest mistakes have been the result of acting out of fear. I have been afraid of being made to look foolish, of being held in contempt, of being thought stupid or unimportant, and spoke arrogantly and rashly in order to impress people, and have paid the price. I have feared the opinions of others and spent money on things that I did not need. I have feared missing out on good times and wasted my time in foolish entertainment.
Different people fear different things. We fear loss of physical safety, loss of health, loss of relationships and many other things. A great deal of sin happens because of fear; in a way, sometimes I think all sin is committed because of fear. And evil people constantly play on the fears of other people to manipulate and control them.
Yesterday a horrible thing happened, an incomprehensible thing. A 20 year old man walked into an elementary school and shot a classroom full of kindergarten students to death. Such a thing hits us on a most fundamental level; it is an abomination that such things could happen. The young man did not appear to have a criminal record, was not an obviously identifiable threat. It is unbearable to think that we live in a world where such things can happen at any time, in any place.
The ancient Israelites lived in a small country surrounded by much larger and stronger neighbors. There were the Egyptians to the south and the Syrians, Assyrians or Babylonians to the north, neighbors which were at best unreliable friends and more often hostile threats. But God told them they had nothing to fear. They had merely to trust Him, and He would always keep them safe. But they did not trust God. They looked to various schemes to save them. They would make alliances with one of these neighbors to protect them from the others; they would amass gold and silver and standing armies as best they could; they would believe that the gods of their stronger neighbors were the source of their strength and prosperity and worship those gods alongside Jehovah. They would break God's law in the pursuit of safety and security because they did not trust God.
This was the very first temptation that the devil used on Eve. God had made them to be like Him. But Satan said that God told them not to eat of the Tree of the Knowledge of Good and Evil because God knew that if they did, they would be like gods, knowing good and evil.
But they already knew good and evil
- good was following God's laws and commandments, trusting Him for all good. Evil was disobeying God's law and seeking our good apart from Him. It was the very existence of the Tree of the Knowledge of Good and Evil that taught them that. So the devil tricked them into thinking that God was holding out on them, taught them to fear that there was some good thing they could have if only they went their own way. And when they listened to Satan- they gained nothing and they lost everything.
This is always the temptation. We fear that God's holding out on us, that there's some good thing we can have if only we seek it ourselves. A man in an unhappy marriage thinks that if only he sleeps with his coworker he will finally have happiness. It's always a lie. The man always ends up worse. Israel thought that by their schemes they would be safer- but the opposite was true. It was their very alliances and foreign entanglements that ended up being their ruin. All good things are God's to give, and we will never have any good thing without God's blessing. He may give the rebel temporary enjoyment of His good gifts as a testimony to His goodness, but even that grace only ends up leaving the man with no excuse for refusing God's goodness.
Whenever a tragedy like the Sandy Hook shooting happens, we will once again see the familiar specter of charlatans and evil men playing on our fear and offering us false hope. God's word gives a man the right to protect himself from violence, and only an evil man with evil desires would ever take that away from him. Yet many in government, with a vested interest to make us as dependent on them and their false promises as they can, promise that if only we give up our own ability to protect ourselves, that they will protect us from the evil in the world. But they cannot. There is evil in the world because God put it there, to punish men for their sin and rebellion. There is no protection from the evil in the world except from God. When a politician comes on television and promises that if only I support his plan, he will solve a problem that is fundamental to human nature, you can be assured that such a man is a liar and a charlatan, who is only playing on your fears to exploit and oppress you for his own ends.
The solution to things like school shootings is not more laws against guns, more cops, more metal detectors, more education, more bureaucrats and social scientists and mental health professionals who don't even believe in the existence of the soul. The shooter yesterday already broke several laws. What makes anyone think he would have been restrained by more laws? And it's not to arm teachers, though disarming them hasn't made anyone safer. People have a God-given right to protect themselves and their loved ones, and though self defense is no ultimate solution to anything, neither is taking away that right.
The solution to school shootings, and to all evil in the world, is to trust God and to trust the solution which God has provided. He sent Jesus Christ, His Son, to earth to deliver His people from this evil world. We sing a Christmas carol that says, "Come, thou long expected Jesus, born to set thy people free. From our fears and sins release us, let us find our rest in thee." Jesus frees us from fear. He is the perfect king who will sit on the throne forever. He even now governs all things for the good of His people. We never have to fear anything again, as long as we love and fear Him. Even when a terrible thing like yesterday's shooting happens, we can know that Jesus is king, and He is working all things according to His plan. He has been given all power, He will protect the poor from the evil oppressor, and He will achieve salvation for all who put their trust in Him.
He told His disciples, when they were wondering about the meaning of a tragedy, "Except you repent, you will all likewise perish." And this is the real lesson of the Sandy Hook shooting, whatever the charlatans tell you. The real lesson is that the world lies under a curse, and that such things are only the foreshadowings of what everyone's fate will be unless we bow to the savior of the world, Jesus Christ. Without Christ, we have no choice but to live in fear, to be enslaved by that fear, to live eternity consumed and tormented in terror of a creation that is our enemy. But when we fear Christ, we are free from all other fear. We need fear nothing when we know that our savior, the strength and consolation of His people, has come, and has won the battle against all our enemies.
Friday, December 14, 2012
Daily Worship
From this week's worship notes:
The Christian life is not just something that happens on Sunday. We are called by the Scriptures to offer our whole lives as living sacrifices. In Acts 2:46 we read that the believers assembled together daily, and again in Acts 5:42 we read that the apostles taught daily in the temple. Hebrews 3:13 calls on believers to exhort one another daily. 1 Thessalonians 5:17 exhorts us to pray without ceasing. The Bereans, who were praised as being of a more noble character than others, searched the Scriptures daily to evaluate the doctrine of the Apostles.
The Christian will find his spiritual life much more rich and profitable if he does not simply try to "top off the tank" every Sunday, but rather is continually drinking of the well of fellowship with God. There is no particular commandment in the Scriptures about exactly what daily or midweek worship we are to engage in, and we should never seek to make a legalistic law of the matter, but many serious Christians have discovered that being continually in the word and prayer become much easier if one makes a regular habit of it. A few minutes a day of Scripture reading and prayer is a world better than none at all.
Fathers or heads of household in particular need to lead their families in worship. Children ought to be instructed of the importance of the Scriptures and prayer even before they can understand much of the Scriptures very well. After breakfast or dinner, depending on one's schedule, is a good time to spend a few minutes reading the Bible and discussing it with our families.
The church also often makes Bible studies available during the week, and midweek studies are, in this pastor's experience, very profitable. It is a time to meet and fellowship with our fellow believers, to approach different parts of the word and in a different manner, and to discuss in a more informal setting the meaning of the Scriptures and other questions that may be on our mind.
We are all busy, and a great many different activities compete for our time. We are not Sabbatarians, meaning that we do not believe that a strict observance of one day out of seven of complete abstinence from any non-religious activities is still mandated for New Testament believers. But it is a great mistake to think that the fourth commandment is therefore no longer relevant. That commandment instructs us to lay hold of the means of grace, to be active in the word and prayer, and the absence of a one-in-seven observance just means that this command is true for us every day of the week. If you wish to grow in grace and understanding, then you simply must learn to take time out of your schedule throughout the week for these kinds of activities.
Monday, December 10, 2012
Optimism
We were recently greeted with the announcement that the Supreme Court will hear cases related to gay marriage, leading to the
almost certain legalization of gay marriage
across the country. The liberal left has never been satisfied before with anything short of complete domination, and therefore
the results we've seen play out in our neighbor to the north
will likely become reality here. That will mean, at the least, that speaking against gay marriage or the practice of homosexuality will carry very big risks for any Christian. I have some very good friends who are supporters of gay marriage. I will be very interested to see whether they stand up for Christian pastors when they come under government attack for refusing to perform gay marriages or recognize them in their churches.
I don't know what the future holds. But I am not optimistic for the state of the country. I have written a
couple
of
posts
on this in the last weeks, since the election. But please don't mistake that for pessimism in general. I am not pessimistic at all. It seems likely that Christians in this country are going to go through some hard times. People in general are likely to go through hard times, but Biblical Christians in particular may come under particular attack, in addition to the generally bad economic and political conditions. But the greatest growth always comes through suffering.
As I said, I am no prophet. But I know what the Bible says. The Bible tells us that Christians must experience persecution and tribulation. Paul told Timothy in 2 Timothy 3:12, "Yes, and all who desire to live godly in Christ Jesus will suffer persecution." There the Holy Spirit tells us all that the world is and always will be hostile to Christianity, one reason I'm not a postmillennialist. That persecution has been lesser or greater in different times and places, more or less overt, but it's always been a reality. Christians right now are under severe attack all over the world; in Muslim countries and in communist countries like China or North Korea the risk is imprisonment, beatings and death. In European countries and in Canada, and increasingly in America, the risk of being a Christian presently is social ostracization, ridicule, fines and other kinds of government censure.
But as I said, I'm not pessimistic at all. And I'm not even speaking directly of the eternal hope, of life with Christ in the new creation, though of course that can never be outside of our thinking. I am not optimistic about the nation of America, or western civilization in general. But why should I be? They are manmade institutions, and all such institutions come to an end sooner or later. Why should I be anxious for the perpetuation of an institution that allows the murder of infants? I have four young children, and I worry about them and others their age. I expect they will be adults in a very different world than I have been in. But God is their God too, and will care for them too. I can't say that decadent and prosperous America has been particularly good for my self-discipline and trust in God anyway.
But I am very optimistic for the progress of the kingdom of God, for the church of Jesus Christ which is that kingdom's outward manifestation. The church is growing the most rapidly in those places where it is under the greatest attack. In China, in India, in Africa, in the Muslim world- the church is growing rapidly. I have heard claims, though I can't verify them, that though the old state churches in Europe and England are dead and gone, that evangelical Christianity is on the rise. Even in America, the growth of Christianity is not coming from the old liberal mainline churches that sold out on divorce and abortion a generation ago and thus paved the way for the trainwreck we're now observing in this country. Along with all that growth of course there are cults, there are heresies, there is shallow feel-good prosperity-oriented Christianity. But that's how Christianity has always spread. There will be a core of faithful Christianity that believes and holds to the Bible, a shallow Christianity that might have some small effectiveness in change the underlying culture, and a lot of wackos on the fringe. That's how the church has always grown, and that's how it is growing now.
The devil is beaten. The worship of the state and its power is the worship of the beast spoken of in Revelation. The worship of money, pleasure, entertainment, and the religious forms that support it are Babylon, the whore of Revelation. The beast and Babylon work together to dominate the nations of the earth, and in America they've just about had their victory.
But the beast always turns on Babylon
and kills her, something we're also seeing in our own country right now, as the power of the state comes into competition with the power of the economy that has always supported the state in the past. So they never succeed in establishing their empire. Though they may have temporary victories in some times and places, Babylon was destroyed by God many millennia ago and He will never permit it to be rebuilt. So Christianity wins. The church goes forward. Satan and those who support him, those who rebel against the Scripture's teachings on marriage, on the protection of life, on sexual ethics, on economic truths, those who look to the state to save them from every problem, those whose lives are spent in the pursuit of money and pleasure and entertainment, will continue to fight against the establishment of God's kingdom. But God's kingdom cannot be stopped. Many of Satan's loyal followers will be convinced of the superiority of Jesus Christ and His kingdom; they will see the message of hope and forgiveness and love in the cross and will reject the futile dead-end of self-worship. And those who cling to their idols will come to nothing- producing nothing, changing nothing, advancing nothing. They will produce only death.
Satan and his kingdom will continue to fight bitterly until the end, and they will cause suffering. But that suffering will only make Christ's kingdom stronger. Just as Christ found His victory through suffering and shame, so too will Christ's people. In Jesus Christ there is life, and that life will have the victory. Christ's kingdom cannot be stopped, and the kings of the earth will bend the knee.
Wednesday, December 05, 2012
The Question of Exclusive Psalmody
I post this here for my own future reference. This is a comment that I left in repsonse to a question asked about Exclusive Psalmody (EP), which is the position that the New Testament church in its worship should sing only the inspired psalms of the book of Psalms in the Bible. They argue that we must do in worship only what Scripture explicitly tells us to do, a view known as the "regulative principle", and that we are commanded to sing psalms, we have a book of inspired psalms to sing, and therefore we should only sing psalms. There are other aspects to the argument as well, but this is the heart of it.

My view is that Paul clearly provides warrant for the singing of uninspired hymns in Colossians 3:16. I know the EP proponent will howl with outrage at this assertion. I have no problem with the idea that psalms, hymns and odes all refer to different names or kinds of songs in the book of Psalms, and yet even granting that, nowhere does Paul say to sing _only_ those songs in the book of Psalms. Even if he had said "sing psalms", that would not have limited us to the book of Psalms, since a "psalm" is just a song meant to be sung to musical accompaniment, like to a psaltery.
Further, Paul says to "teach" one another in this manner. In no other avenue does the church accept the bare reading of the words of Scripture as teaching. The word is to be exposited, explained. This is even more the case with the Psalms, which come to us in the Old Testament, before the revelation of Christ, and are full of references that must be contextualized for a NT audience. They speak of bloody sacrifices, of killing all God's enemies, and the use of musical instruments. Now these things must all be explained. But if you have to explain what the Psalms actually mean, then you have to recognize that if you merely use the bare words of the Psalms, you have not taught the people.
In particular, I think the Psalms present to us an incomplete theology of suffering, something that is a major problem I believe among western Christians. When suffering happens to David, it is always as a punishment for sin, or else something to simply be endured and not comprehended. "How long, O Lord?" the psalmist always cries. On the other side of the cross, suffering takes on an entirely different role, as the Christian enters into the suffering of Christ. Our suffering is not necessarily punishment for our sin and neither is it something just to be stoically endured. The New Testament calls on us to rejoice in suffering. Peter and John rejoiced that they were found worthy to suffer for the sake of Christ. Paul says he "fills up what is lacking" in the suffering of Christ through his own suffering- Col. 1:24. It is very difficult to imagine anything similar coming from the mouth of David.
I believe that the EP argument fails to recognize the degree of change that came with the outpouring of the Holy Spirit. Jesus said that the least in the kingdom of heaven would be greater than John the Baptist, who was the greatest prophet that ever lived. Joel said that the Spirit of God would be poured out on all flesh, so that their sons and daughters, their old men and maidens, would prophesy. I think that points us in the direction of a far higher level of understanding and expression of the truth of the gospel in the New Testament. Paul says, "Let the word of Christ dwell in you richly", the word of Christ. Yet to the EP, I cannot sing the name of Christ and I cannot explicitly sing about anything that was revealed only in the NT. And it is not clearly revealed in the OT. This is taught clearly in many passages including Hebrews 1 and others- that many things were concealed or understood only in shadows in the OT period. The theology of suffering is just one example.
We also have, I believe, examples of such use in the NT. 2 Timothy 2:11ff. I know the EP proponent doesn't accept that example, but I find the argument persuasive, that it is an example of poetry that Paul quotes, and that if it is poetry, quoted with the expectation that the people would know what he was quoting, then the most logical supposition is that it was a hymn that the people sang. 1 Timothy is another example. Given that there is no clear prohibition of such hymns in the NT, then it is most logical to accept that what they appear to be is what they are.
So we have warrant by example, by direct command and by implication. The Psalms are not adequate for NT worship. They were given in a time of the childhood of the church, do not fully express the theology that would be revealed later, and must themselves be explained constantly to a NT audience. Therefore they do not "teach" by themselves, as Paul commands us to do. With the outpouring of the Holy Spirit in the NT, the command of Paul that the "word of Christ" would dwell in us richly by congregational singing, and the example of such extrabiblical hymns actually receiving the sanction of the Apostle, our way is clear.
And what is gained by singing only the inspired words of Scripture? What possible purpose could it have? God never gives us commands for no reason. There must be a purpose. And yet what purpose could it have? We have uninspired words in the prayers and in the sermon. So it's not like we are successfully excluding the untrustworthy words of man. A song does not differ intrinsically at all from a prayer; only the form is different. Indeed, many of the Psalms are called prayers- 17, 86, for example. So in principle there is no difference at all between a prayer or a song- only the accidents are different. If there were something intrinsically problematic about singing uninspired songs, if that were inherently offensive to God, then you would have to say the same about prayers, and only pray the prayers we find in Scripture.
So it accomplishes nothing theologically or liturgically, it denies the church the opportunity to sing about Christ explicitly and clearly for no good reason at all, it presents the church with an incomplete theology as if it were sufficient, it ignores the actual contrary examples we see in the New Testament, fails to accomplish what Paul told us to do in Colossians 3:16, and unacceptably flattens out God's redemptive history, failing to see the real distinctions between Old and New Testament and the import of the outpouring of the Holy Spirit. And it has the added effect of cutting its proponents off from unity and fellowship with the great majority of the rest of the world, including the Reformed world.
Saturday, December 01, 2012
The Essence of Good and Evil
God gave Adam a world full of good things to enjoy. He withheld one good thing from him, one tree, and called that tree the Tree of the Knowledge of Good and Evil. By withholding that one tree from Adam and making Adam's very life contingent on not eating that tree, God taught Adam the heart of good and evil, which is that all good things come to us from God, for He is benevolent, but that all the things that God has given us must be enjoyed as God's gifts to us and according to God's command for their rightful use, for God is also sovereign.

When Adam ate of the tree, Adam denied that all things really did come from God. He believed the lie that the tree just existed of itself and could be used however Adam saw best. This is the lie that mankind is cursed to believe ever since, that God's good creation simply exists of itself and that it is up to man to determine what it means and how it should be used.

Tuesday, November 20, 2012
Middle Class Values
Last night we finished watching the BBC miniseries "Brideshead Revisited", based on Evelyn Waugh's novel. At one point, a very wealthy lord, who had run out on his family and abandoned the church many years before expressed dislike of his son's choice in marriage. The woman that he marries is a commoner, and the old man does not appreciate her outlook on life. The old man's son at one point says that she doesn't fit in very well with his family because she has "middle class values". That got Andrea and I to thinking. The characters in Brideshead Revisited are mostly a train wreck- broken families, alcoholism, indigence and the like. But they are very wealthy, so they can avoid the more obvious consequences.
The underclass in Britain at the time also had many of those same character traits- this was early this century. The very poor in our own nation do as well; anyone who has done charity and outreach work in this country, as I have, knows that a large proportion of the people in this country who are truly needy, especially who are truly needy for any great length of time, are needy because of their own character. Before anyone gets excited, I am certainly aware of a great many exceptions to this rule. Nonetheless, in a country with rule of law such as Britain or America, if one is hardworking, disciplined and has the ability to defer gratification, then absent some terrible medical condition, one will not be destitute. That doesn't guarantee wealth by any means, but it should be enough to keep one off the street with food on the table.
"The values of the middle class" is a common expression, and what is meant by it generally is hard work, reliability, dependability, discipline and the ability to defer gratification. To attain the middle class it is necessary to have the ability to work toward a long-term goal, to save money, to put up with a lot of unpleasantness for the sake of some greater benefit in the future. Going to college used to be a difficult and strenuous task for most people, requiring significant sacrifice usually on the part of both parent and child, if one was middle class. It cost a lot of money, you had to defer income for several years, you had to study and work hard and avoid a lot of the things young people often do in order to get an education. University academic standards have declined tremendously in the last several decades. While there was always a certain amount of carousing associated with going to college, it was necessary to show some discipline and some self-control to complete one's college education.
Home ownership likewise was a major accomplishment, not something everyone could attain. Even after the advent of the 30-year mortgage, one had to save up a significant downpayment and convince a bank that one was creditworthy. That required discipline, hard work and deferment of gratification.
Glenn Reynolds of Instapundit
had a great insight a while back, something that has come to be known as
"Reynold's Law"
-
The government decides to try to increase the middle class by subsidizing things that middle class people have: If middle-class people go to college and own homes, then surely if more people go to college and own homes, we'll have more middle-class people. But homeownership and college aren't causes of middle-class status, they're markers for possessing the kinds of traits — self-discipline, the ability to defer gratification, etc. — that let you enter, and stay, in the middle class. Subsidizing the markers doesn't produce the traits; if anything, it undermines them.
Getting people out of poverty and into the middle class is a major policy goal of most governments. People in the middle class provide stability to a society, and they provide tax revenue. They don't consume many government services and they don't get into legal trouble nearly as much. So the federal government decided quite a while ago that they would subsidize home ownership and college education, because doing so would get more people into the middle class. But those are just markers of the middle class, not the traits that actually make someone middle class. The traits themselves, as Reynolds says, are hard work, discipline, and the ability to defer gratification, the ability to stick with something even if it's hard, to gain a greater benefit down the road. When government just gives people things that in the past they had to work for, then that actually undermines the very traits that produce the middle class.
In this last election, many people remarked on the gender gap, the greater propensity of women to vote for the Democratic candidate than the Republican candidate. But an even greater gap, and one much less remarked upon, is the marriage gap. Married females were almost 25% more likely to vote for Romney than Obama. Married males were 19% more likely to vote Republican. Marriage is another endeavor that, especially in our own day of easy divorce, requires "middle class values" to attain and keep. Marriage is often hard; it requires the ability to compromise, to work with others, to defer gratitude and to control one's desires.
One really easy way to become poor or to stay poor is to get divorced. Another way is to have a child out of wedlock. The wealthy can afford to pay for the fallout of broken families and single parenthood, at least in a financial sense. The poor cannot afford it, and it's one of the major reasons they stay poor.
In our time of media saturation and popular culture, people study and emulate the lifestyles of the very wealthy. On TV we see lots of images of single happy people sleeping around and raising children by themselves without much trouble, people who never seem to work much and never seem to suffer very much from their choices. Poor people see the lives of wealthy people and think they will be happy if they emulate those lifestyles, of promiscuity and substance abuse, but the rich are only able to live that way, insofar as they do at all, because they are rich and able to buy their way out of some kinds of trouble. Less obvious is the tremendous emotional and spiritual damage they do to themselves. But the poor, all too many of whom get their ideas of the happy life from Jersey Shore and Jay-Z, suffer immediately and obviously from a lifestyle of substance abuse, promiscuity and sloth. Subsidizing college educations and home ownership for people without discipline and without self-control will not change anything, other than to temporarily mask the true deleterious effects of a lack of character.
The values that are necessary to the middle class are also the values necessary to success in the Christian life. Christianity is hard. It takes discipline and self-control. It takes the ability to defer gratification. The parables of Jesus point constantly to this truth, calling us to look to the long term for the benefit; if we are not able to stick through the hard times to get to the good times, then we will fail. We will fail when our own sins tempt us, when the hostility of the world beats against us. Paul tells us to set our eyes on things above, not on things on this earth. All too many people become Christians looking for the fast benefit; most of those fall away. Perseverance is necessary.
It is no secret and no surprise that the rise of the middle class in history corresponds to the increasing influence of Christianity. Before Christianity's influence, and absent that influence, society tends to divide itself naturally into categories of oppressor and oppressed; the rich elites born into the right families and willing to inflict violence and exploitation for the sake of the stability of the society (and their own benefit), and the oppressed who are viewed as too undisciplined and lazy to be trusted to rule their own lives, who must be made to work for the benefit of the ruling class, and cared for by the ruling class, for their own good. This is how the kingdoms of men are always organized. The kingdom of God, when it was revealed by Jesus Christ, was shown to be not the rule of some better earthly king, but the internal spiritual rule of Jesus Christ, mediated by the Spirit of God, in the hearts and minds of those who put their trust in Him. When enough people in a society start to be governed by this kingdom, they realize that they don't need earthly kings any more. A man who is ruled by God has no need to be ruled by other men.
He is free.
The free societies of the west were all the product of this knowledge, first in the rise of Christianity in Northern Europe and England, and later especially as a result of the Protestant Reformation that recaptured many of these principles from the earthly tyranny of the Roman church.
As the state seeks to increasingly dominate every area of our life, they attack everything that stands as a rival. So marriage is undermined, treated as inessential and unimportant. They do this by disconnecting childbearing from marriage, making it easier to have children out of wedlock. They undermine the need for hard work and deferment of gratification through welfare policies, social security and medicare, all of which become "entitlements", not simply safety nets for hard cases but the normal expectation that the government will take care of us. Education, medical care, housing, food- everything is increasingly dependent on state direction and state subsidy, all through funds taken from the smaller and smaller pool of productive people, or simply invented through the fiction of fiat currency and deficit spending. Friedrich Hayek's book
The Road to Serfdom
looks more prophetic by the day- we are becoming serfs, workers dependent on the direction of the state for our every move.
I have no policy prescriptions here. I am not telling you to vote Republican, or call your congressmen for anything. But if people in this country want to remain free, we must start with ourselves. We must free ourselves from slavery to our own lusts and desires, and that happens only through faith in Jesus Christ and new birth through the Spirit. There are spillover effects, common grace effects of a Christian society, so that even those who are not regenerate can experience some of the related benefits. But only through the gospel can we as individuals or communities really enjoy true liberty. Christ came to bring the truth, and the truth sets us free. Once we are free in our hearts, free men willingly serving Christ our king, we will forever be free of the slavery of men, whatever our earthly condition. When we give up that freedom, as individuals or as societies, we will again fall into bondage, the natural slavery of the human race, which we sadly see happening all around us in America today.
Thursday, November 08, 2012
The Truth Will Set You Free

Most of you under 30, you don't understand. You don't get that the life you live didn't just happen- it was the product of sacrifice and discipline that others made on your behalf. What we had in America was rare in the world, very rare, and it still is. People left Europe and Asia in droves because in Europe, in Asia, everywhere in the world, everytime you turned around you had to ask someone for permission to live. They came here because in America they were free- free to worship, free to work, free to enjoy the fruits of their own labor without having to pay off some fat duke or bishop or petty warlord for the privilege of breathing their air.

The problem is, that those people are here too. They are constantly tempting you- free birth control, cheap student loans, cheap housing, universal health care- tempting you to give up your freedom for false promises. They don't actually want to give you anything. They don't care about you. They just want to trick you into giving them the reins, so just like in the old days they can dictate where you live, what you do, who you worship.

Isaiah's idea of heaven was a place where they got to enjoy the fruits of their own labor without petty tyrants seizing it from them all the time- "They shall build houses and inhabit them. They shall plant vineyards and eat their fruit. They shall not build and another inhabit, They shall not plant and another eat." (Isaiah 65:21-22) His idea of heaven was the free market, where people lived and worked and enjoyed and voluntarily shared what they earned themselves, without some petty tyrant dictating to them what they could and could not do. There is more to heaven than this, of course, much more. Yet the absence of tyrants in heaven is a major part of what makes it heaven, to Isaiah.

The great problem has never been the tyrants, the bureaucrats, the slave drivers. The great problem has always been that people did not have the moral courage to take responsibility for their own lives, to refuse to trade their own accountability before God in exchange for a mess of porridge, to give up the liberty that is the true state of mankind in exchange for the lie of the world. All through history people have clamored to go back to Egypt, to embrace slavery with security rather than freedom with risk, trusting God to see them through the wilderness. And so the liberty which America has enjoyed these many years was hard-fought, by men and women who took responsibility for themselves, ultimately accountable to nobody but God, and resisted the false promises of the enslavers of men.

God made man to be a king, to rule himself and to rule creation, and to be answerable to nobody but to God. Man threw away that inheritance in exchange for the false promise that if he submitted to the devil he would get what he wanted. In America, more than anywhere else that has ever existed, the Christian truth of freedom had reasserted itself, that man could be self-disciplined, self-ruled, a king over his own life and accountable to nobody but God.

The problem is not Barack Obama. The problem is a nation that would rather indulge their every lust in exchange for a tyrannical government that will promise to cover the cost of our self-indulgence, at the expense of our hard-fought liberty. The problem is a nation that thinks that promiscuity, drunkenness, laziness, addiction to entertainment, pleasure and luxury can be had with no cost. There is always a cost.

Jesus said, "He that sins is the slave of sin." Only by embracing our accountability before God can we truly be free, and once we have that freedom, nobody can take it from us. We are free from the tyrants of this age. This is the truth that our founding fathers realized. This is the truth that they saw when they said, this people will be ruled by God, or by God, they'll be ruled. And with this last election, I fear the reversion to the mean is complete, that we have once again given up our birthright for a mess of pottage, once again traded our divinely appointed kingship under God for the false promises of pleasure and joy without responsibility. The one who is promising to cover the cost of your self-indulgent life is the one who is making you their slave.

The days will come that you, under-30-year-old, will see that the costs of laziness, self-indulgence and irresponsibility will always be paid- if not now, then tomorrow. When that time comes remember that Jesus Christ has promised to set you free, and America was once the closest thing this world has ever seen to that freedom, worked out in civil society. Embrace the truth that anyone promising you security, safety and immunity from the consequences of bad choices simply wants to make you their slave. Jesus has bought you out of the slavery that is the natural state of mankind, bought you with the price of His own blood, and He has promised you freedom from the lies of Satan and the tyranny of men, so that you too can one day enjoy the fruits of your own labor, that you too can sit under your own vine and fig tree. If you are very lucky, very blessed by providence, you may get to experience a small taste of that liberty in this life, as our forefathers did. But trust in Him, and one day you will certainly have it, in this life or that which is to come. And when you come to trust in Christ and the liberty which He promises, you will never again believe the false promise of security and self-indulgence which the tyrants of this world use to trap those they would make their slaves.

Tuesday, October 23, 2012
Atheistic Morality
Atheistic morality is a contradiction in terms. Morality addresses what ought to be, and atheism allows the existence only of what is. Atheists have come up with various formulations to defend the notion of atheistic morality, most based on what will benefit the survival of the species. This leaves the atheist in a difficult position, however, for the atheist believes in materialism- that there are no such things as spiritual realities, and only the material is real. If that is the case, then the atheist can only define morality in terms of what is natural, and can only determine what is natural by observation. Nobody talks about how a bird ought to build a nest. They only talk about how it does build the nest. Therefore, the atheist must determine morality simply by observing what people actually do, and defining morality in those terms.

In the atheist view, morality can only be natural, since there isn't anything other than nature. If atheists believe that morality is natural, then people's actual, observed behavior defines morality. There can be no standard to judge people's behavior except what one actually sees, at least in the majority. Are the majority of people racist? Then racism must be moral. Are the majority dishonest? Then dishonesty is moral. Is self-sacrifice, honesty, humility and altruism a minority position? Then those positions must be unnatural, on the order of a bird that doesn't know how to build a nest, and therefore immoral.

No atheist therefore has any ground to speak of how anyone ought to be. They can only, at best, observe how someone is. All disagreements about morality are therefore disagreements about what renders the species more fit for survival, and such disagreements, as has always been the case, can only be settled by bloodshed. In that case the Nazis were correct- believing themselves to be the superior race with the superior morality, they set out to prove it, to subjugate or destroy all other races. In the atheist worldview, the only thing that rendered the Nazis immoral was the fact that they failed. If they had succeeded, then genocide would be proven good and right.